Join us at The George and enjoy the Performing Arts excellence of The Plough Arts Centre.
Bringing you live music performances through to stand up comedy, enjoy a feel good performance in the comfort of our hotel.
Want to know what performances we have coming up?
---
Friday 18th January 2019 8pm - Paul Lamb & Chad Strentz Acoustic Duo
Award-winning British recording artists! Respected worldwide as Europe's top Blues musician and entertainer, Paul Lamb was inducted into the British Blues Awards Hall of Fame (alongside the likes of Peter Green, John Mayall & Alexis Korner) and continues to bring his infectious brand of music to fans around the globe…..
Vocalist and guitarist Chad Strentz is one of the best Blues singers in Europe. He started out as a rockabilly hound at the age of 15, then toured extensively with the King Snakes. You will find in his voice and guitar playing a blend of music ranging from blues, soul, rockabilly and more.
Tickets: £12
Tickets Online: https://uk.patronbase.com/_ThePloughArtsCentre/Productions/1BQ/Performances
Thursday 31st January 2019 8pm - Gordie Tentrees & Jaxon Haldane
After 550 concerts in 11 countries since coming together in 2014, including Celtic Connections (Glasgow) and National Folk Festival (Australia), Gordie Tentrees & Jaxon Haldane released their debut album, 'Grit'.  Recorded live with 10 instruments - banjo, dobro, cigar box guitars, musical saw, acoustic guitar, porch board bass, harmonica, snare tam & mandolin, brotherly harmonies and masterful storytelling – this promises to be a special evening.
Tickets: £12
Tickets Online: https://uk.patronbase.com/_ThePloughArtsCentre/Productions/1BT/Performances
Friday 8th February 2019 ~ 8pm - George Lewis 
When George was 12 he fell for the most beautiful, most orange girl in Stockport. To win her heart, he tried to act less like a boy and more like a man. Specifically, Liam Gallagher.
In this show, George looks back on teenage life in a world going crazy for Britpop, Minidiscs and New Labour.
A multi-award winning stand-up, George has recently written for BBC Radio4, is soon to appear on ITV2's Stand Up Sketch Show, hosted Top Gear-Extra Gear, was named on the BBC New Talent Hotlist, and won Celebrity Mastermind
Tickets: Full £12 Supporter £10
Tickets Online: https://uk.patronbase.com/_ThePloughArtsCentre/Productions/19B/Performances
YouTube: https://www.youtube.com/watch?v=Zq1uz0Jow4Ehttps://www.youtube.com/watch?v=Jmu2mFtrysA
Saturday 23rd February 2019 ~ 8pm - Jake's Progress - An evening without  Jake Thackray
John Watterson is Jake's biographer and the UK's leading performer of Jake's songs. As Fake Thackray he has toured with Fairport Convention, played at many festivals, theatres, clubs and on national radio. John has recently uncovered 15 wonderful songs written by Jake but never released - some have lain forgotten in the BBC archives for decades, others found in Jake's personal papers have never been heard.
These songs, along with never-before told stories from the biography research plus several much-loved Jake classics, feature in John's new show - a hilarious and captivating celebration the life and songs of one of this country's finest and funniest wordsmiths.
Highly entertaining whether you are discovering Jake for the first time, or an ardent fan.
With a standing ovation and roars for more, and much to the delight of folk fans everywhere, Knight and Spiers decided not to leave things there.
The pairing of violin and melodeon is not a new one, but in the hands of Knight and Spiers, Improvisation and invention meet the listener at every turn. Together they have created a musical document that resonates with history, but also something that should inspire future generations of musicians to engage with Britain's folk dancing heritage, and the beautiful, mysterious tunes that can be found within that heritage.
These uniquely gifted musicians make a sublime pairing, and create a live performance to be remembered for a long time.
Tickets: Full £12 Supporter £9
Tickets Online: https://uk.patronbase.com/_ThePloughArtsCentre/Productions/19B/Performances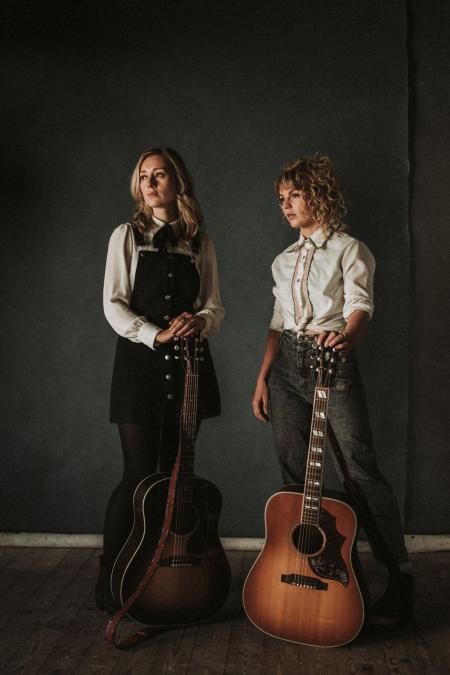 Friday 15th March 2019 ~ 8pm - Sound Of The Sirens
West Country folk-rock duo Sound Of The Sirens have announced their new album, This Time, out January 25th 2019 via DMF Records, as well as a 21-date UK tour starting in January. Their live shows combine a natural facility for connecting with their audiences and unforgettable performances with warmth, humour and, above all, real conviction.
This Time – the follow-up to their debut album, For All Our Sins, which was released in 2017 to widespread praise – continues to showcase an evident gift for crafting unique, vivid and enduring melodies over 15 heartfelt tracks.
Throughout the album, Sound Of The Sirens – duo Abbe Martin and Hannah Wood – blend intoxicating vocal harmonies with beautifully crafted instrumentals to create a seamless collection of captivating tracks. 'Troubles', the first track to be taken from the album, is a rousing and emotive ode to overcoming issues, amid inspiring lyricism and graceful cadences.
The album will be available digitally, on CD and black heavyweight vinyl, with signed copies available to pre-order now. 'Troubles' is available as an instant grat with all album pre-orders.
Tickets: All tickets £12
Tickets Online: https://uk.patronbase.com/_ThePloughArtsCentre/Productions/1EP/Performances
Sunday 31st March 2019 ~ 7.30pm - Hannah James & Toby Kuhn
Award-winning folk musician, dancer and composer Hannah James debuts her never-before-seen brand new duo with outstanding cellist Toby Kuhn of France. Hannah and Toby only met this summer but their musical chemistry was immediate. They instantly formed a duo and the interplay between these two master instrumentalists would have you believe they have been playing together for years. 
Tickets: Full £12 or Supporters £10
Wednesday 17th April 2019 ~ 8pm - The Askew Sisters
Emily and Hazel Askew have become known as two of the foremost performers and interpreters of English folk music.
Their live performances brim with the depth and connection not only of two sisters, but also of two musicians who have been immersed in folk music all their lives.
Together, they rework and reinterpret songs and balladry, creating breath-taking arrangements, which allow words that are hundreds of years old to resonate profoundly with contemporary audiences.
Alongside this, both women are also skilled multi-instrumentalists and expert players of dance music, using fiddles, melodeons, concertina and cello in their innate drive to bring old dance music to life.
Tickets: Full £14 or Supporters £12
Thursday 18th April 2019 ~ 8pm - Shappi Khorsandi
Comedian, author, cultural icon and - most recently - idiot who agreed to be tortured on 'I'm A Celebrity Get Me Out Of Here!', Shappi Khorsandi is a woman of many parts. But live comedy is where she's in her element, and now - after her spell in the jungle - she sets out for the more welcoming destination of South Molton.

A brand new show packed full of sharp-tongued gags and cultural observation, this is Shappi's warts and all journey through the 90s comedy scene, to breaking through on telly and then letting it all slip away.

As heard on Radio 4, read in two warmly-received books, and seen sleeping in a hammock.
Tickets: All £16
Tickets Online: Tickets
YouTube: https://www.youtube.com/watch?v=AHtnE4ALtP0https://www.youtube.com/watch?v=Jmu2mFtrysA
Friday 10th May 2019 ~ 8pm - Patrick Monahan
Multi award winning comedian and Edinburgh Fringe favourite Patrick Monahanreturns on Tour with another brand new stand-up show # Goals!
We all have life goals. Whatever amazing things they are, whether it's to win the lottery or marry up, make it your goal to come and watch a great comedy show from an Irish Iranian smoggy!
Patrick Monahan is adored by his audiences everywhere! He performs all over the UK and Europe and has appeared in far-flung hotspots including Dubai, Bahrain and Costa Rica! He is very much in demand performing literally hundreds of shows a year!  His many TV appearances include 'The Wright Stuff' (C5) 'Weekend' (ITV) 'Live Stand-up Set for BBC Asian Network' (BBC iplayer 2017) 'Safeword' (ITV2) 'Celebrity Squares' (ITV) 'Fake Reaction' (ITV2) and 'The One Show Edinburgh Festival' (BBC1). 
Tickets: All £12.50